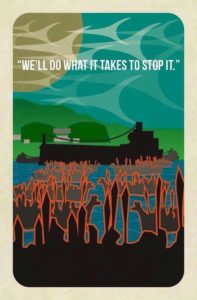 Healing Lodge Build & Beyond
New dates:
AUGUST 15-18 2018
~ Sign Up form below ~
Stand with Kwantlen is gearing up to build our Healing lodge in memory of our Kwantlen ancestors who did not survive residential schools, 60's scoop, small pox epidemics and have gone missing and murdered. With the love for our ancestors and our families we continue this work to heal the land and ourselves.
As you know in November 2016 it was announced by the federal government and Kinder Morgan the pipeline expansion would go through in September 2017. While in the age of "post-reconciliation" where our people have not recovered both the land and ourselves we refuse to allow this encroachment to continue the movement of genocide on our lands and bodies. The Canadian government has made many claims about reconciliation but has not laid restitution.
Since Indigenous peoples have been made aware for over 150 years that imperialist (colonial) institutions are not sorry and do not wish to understand the mass of destruction their ship causes, we have and continue to dedicate ourselves to our people and the land, This lodge is one symbol of this love we have for our people and lands.
Come and volunteer for Stand with Kwantlen and show your love and share your skills. From our families to yours.
The facebook event page for the build is available here.
Find out more at standwithkwantlen.org
Donate here.
[ninja_form id=3]
Save
Save
Save
Save
Save
Save